The Best Teas for a Restful Sleep
Posted by Elise Goldsworthy BHSc (Nutrition Science) on 10th May 2022
There's no doubt that sleep is an important pillar of health. Good quality (and quantity) sleep is something that a lot of us struggle to achieve. Modern life is busy and distracting, with a fast pace that keeps us up at night. One of the easiest ways to support our sleep is to install simple habits at night time that create a calming environment. Low lights, soft music and the ritual of a cup of tea is a wonderful way to wind down at night.
Aside from the ritual of tea drinking, which is relaxing on its own, many teas themselves actually possess sleep-promoting properties. Various chemical compounds released during the steeping process work on the brain and nervous system, reducing anxiety and relaxing the body. Any small steps we can take to help get a good rest at night will help us feel energised for the next day. Why not include a warming cup of tea into your nightly ritual.
Unwind with some of these delicious and relaxing teas, and you'll soon find an evening routine to enjoy.
Green Tea
Chamomile Tea
Rooibos Tea
Lemongrass Tea
Peppermint Tea
Lavender Tea
Passionflower Tea
Lemon Balm Tea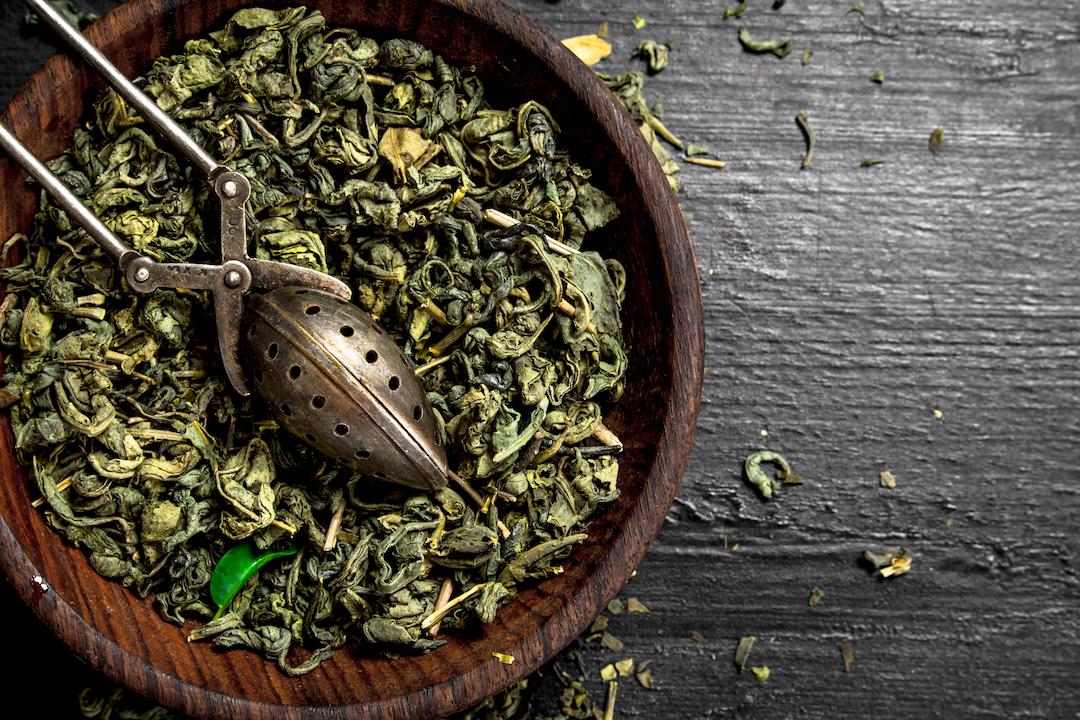 Green Tea
Epidemiological studies have shown that excess caffeine intake can negatively impact sleep. Here's an Australian study that found that shorter sleep is associated with greater caffeine consumption. Yes, green tea contains caffeine, but it's balanced by the amino acid L-theanine which helps induce relaxation. L-theanine is found in tea leaves (camellia sinensis), which means it is present in white, green, oolong and black tea. However as the tea leaves mature, the caffeine content increases which is why different true teas possess different chemical and therapeutic properties. This is important if you're wanting to monitor your caffeine intake over the day. Luckily, green tea seems to be a great option for an evening cup of tea.
The effects of L-theanine appear to be most prevalent in green tea. Benefits of L-theanine from green tea include reducing anxiety, improving emotional regulation and mitigating sleep disturbances. Green tea has also been shown to be anti-inflammatory, improves cognition and reduces cardiovascular disease risk. The impact of green tea on stress and sleep quality was measured in a recent study. Enzymes related to stress were significantly lower in participants who consumed green tea. Moreover, sleep quality was reportedly higher with lower levels of ongoing fatigue also noted by participants. This means that green tea is a wonderful choice in the afternoon or evening to help your body prepare for bed time.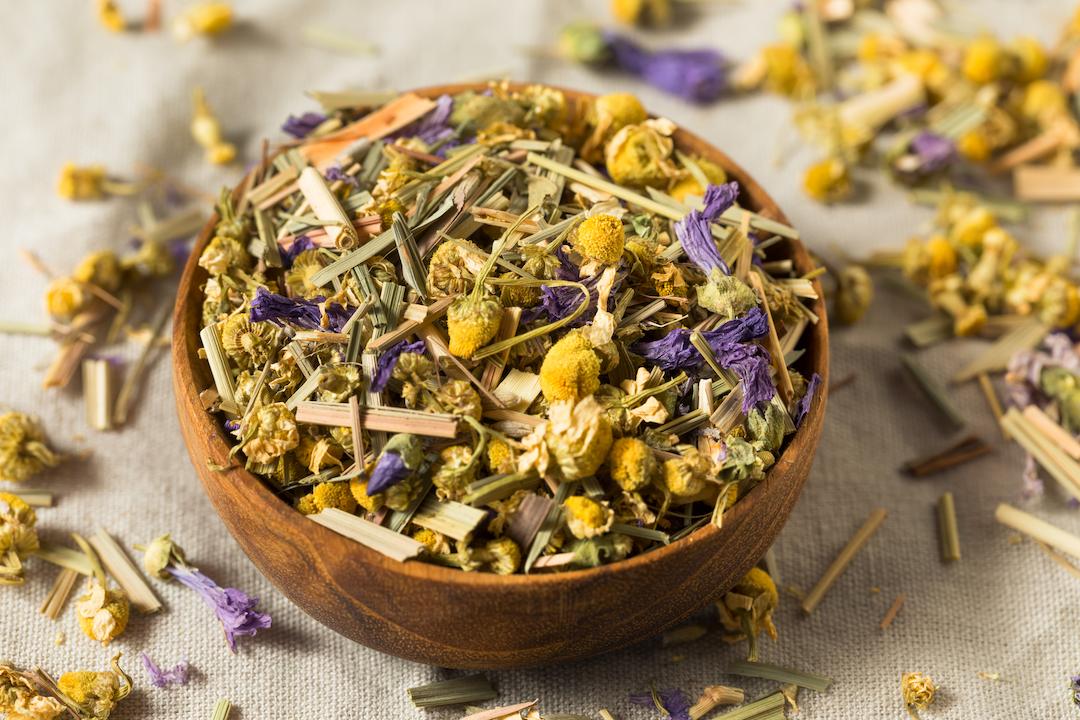 Chamomile Tea
One of the best known sleepy teas is chamomile tea. It's caffeine-free and has a robust amount of anecdotal and scientific evidence to support its benefits in sleep quality as an anxiolytic remedy. Apigenin, is a plant compound found in chamomile tea that mimics the effects of GABA in the brain. GABA is an anti-inflammatory, inhibitory and relaxing neurotransmitter. The longer chamomile tea steeps, the more potent relaxing effects your tea will possess.
While the postpartum period is one of major sleep deprivation, some research suggests that new mothers may have improved sleep simply by consuming chamomile tea. Chamomile tea has a natural sedative and hypnotic effect and has a subtle and delicate flavour that's a perfect prelude to bedtime. Chamomile tea has a soft sweetness with a flavour of crisp apple that's a delight for tea drinkers of all ages. In fact, chamomile tea is a lovely tea to introduce to kids as their first herbal tea experience. If you want to switch things up, try an infusion of green, chamomile or lemongrass for added relaxation, flavour and aroma.
Rooibos Tea
This South African tea is a wonderful amber red and invites a lovely warming glow to your evening. Made from the fine needle-like leaves of the rooibos (red bush) plant, rooibos is an earthy and sweet tea with caramel and vanilla notes that make it a real after-dinner treat. In winter, rooibos tea is gorgeous with a dash of milk and honey. In summer, it can be made into a refreshing bedtime iced tea with a wedge of lemon. This herbal tea is naturally caffeine-free, with some immune-boosting polyphenols as well as vitamin C and zinc.
Rooibos tea health benefits are strongly linked to the immune system. Plenty of research supports rooibos tea as a strong anti-inflammatory and antiviral tea. Drinking rooibos tea every day, and at night, can be a good choice for your health and immune function, which will also mean your sleep is supported.
Another reason why rooibos tea is superb at night time, is that it makes for a decent substitute for a coffee. The full-bodied and bold flavour that comes from a cup of rooibos tea is a good match for a black tea or coffee, without feeling like you're missing out. If you're someone who enjoys a hot beverage with some character, rather than a delicate flavour, rooibos tea is for you. Enjoy this tea at night for added sleep and immune benefits.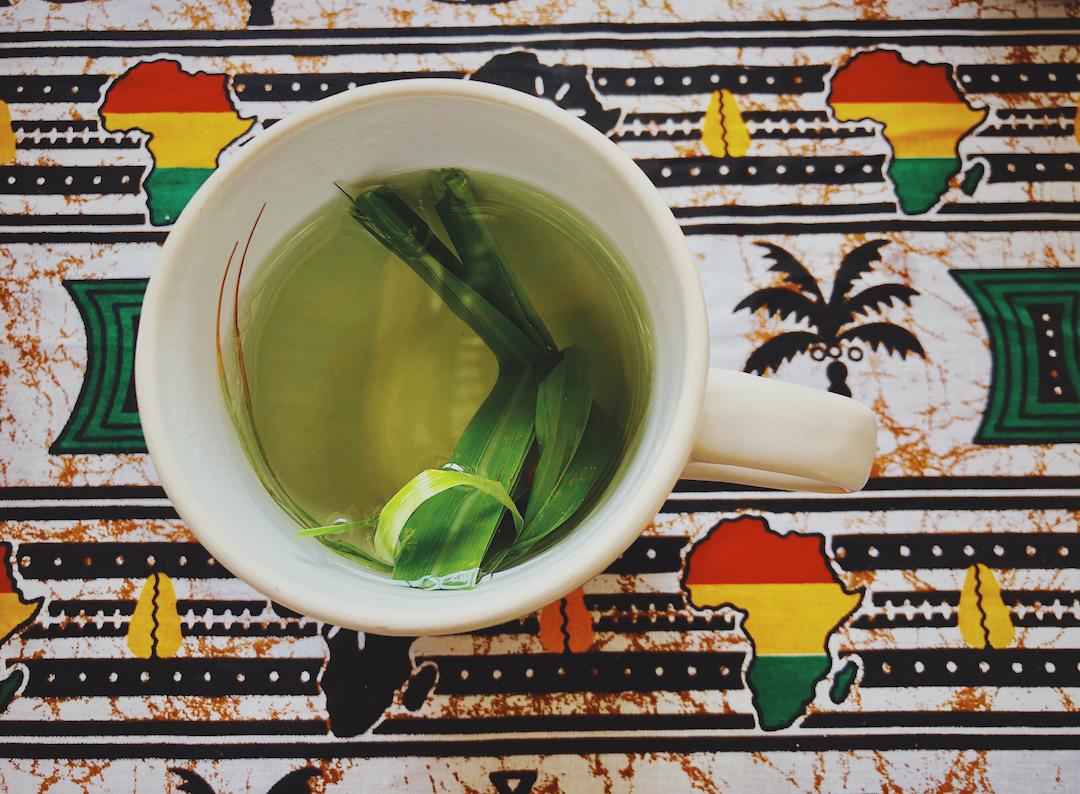 Lemongrass Tea
Lemongrass tea may not be as well known as other night time teas, but it's one with some very relaxing benefits. Lemongrass tea can naturally help address high blood pressure, which will support the body in reaching a calm and steady state for sleep. Lemongrass has been used in Asian cultures as a light sedative to induce sleep, and as a natural anti-inflammatory food for the digestive tract.
The essential oils in lemongrass leaves contain health promoting properties. Lemongrass also contains modest levels of vitamin C and has mild antimicrobial properties. The flavour of lemongrass tea is of soft citrus with a matching aroma that is both refreshing and uplifting. This light flavour is perfect after a heavy meal as a gentle palate cleanser. Lemongrass tea can help support digestion and calm a full tummy before you settle in for a restorative sleep.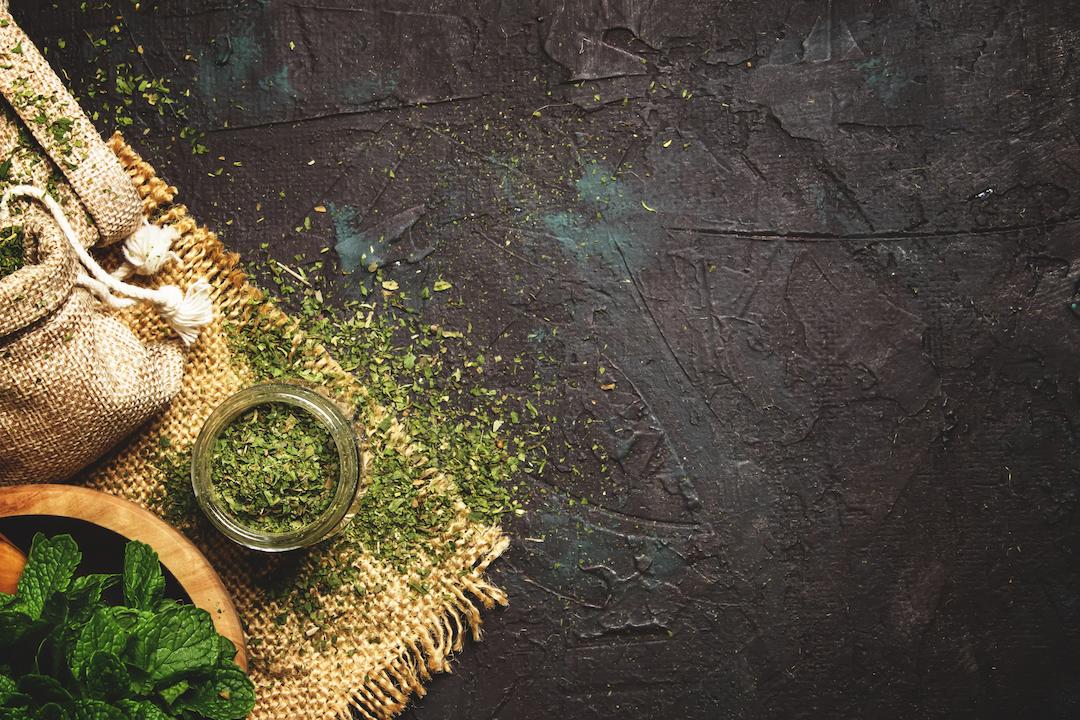 Peppermint Tea
Peppermint tea is a firm favourite night time tea amongst even novice herbal tea drinkers. This is one herbal tea you may not even need to buy, as you can make peppermint tea right at home with fresh mint leaves. Also known as mentha tea, peppermint has been a popular tisane in Ayurvedic medicine for centuries. It's naturally caffeine-free and has wonderful digestive health benefits. Peppermint tea promotes stomach acid production, which helps your body digest heavy meals after dinner. The menthol in peppermint tea also helps relax a sore and tired body, promoting deep rest from a long day.
Peppermint tea has an unmistakable menthol flavour with a vibrant and refreshing taste. It's a simple delight on its own, and becomes something new when blended with green tea or even a black tea such as this beauty. Immerse yourself in the simple joy of peppermint tea as you retire for the day and begin to prepare for sleep.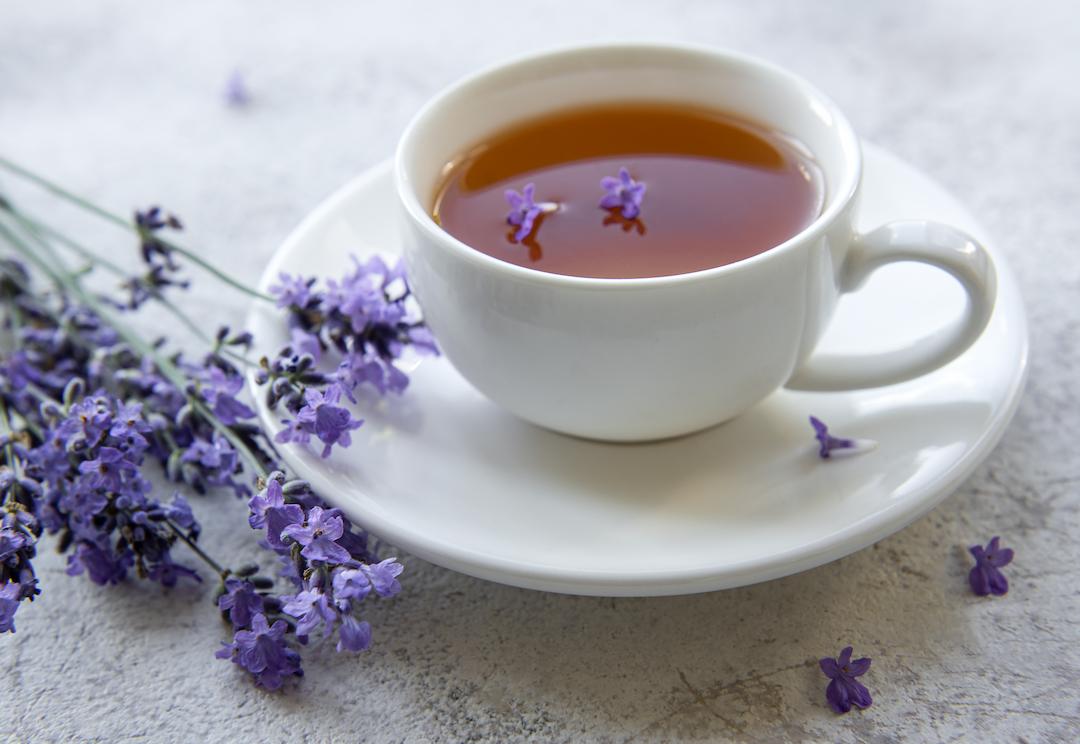 Lavender Tea
Lavender tea is a herbal tisane that's truly a hypnotic purple pleasure. Lavender tea has flavours that are a mix of mint and rosemary with a hint of floral notes. The purple flower buds and petals of the lavender plant make this tea a delight to brew and enjoy on any evening. Lavender tea has calming properties that are as old as time, which have been used in many European cultures for centuries. Lavender could be one of the most famous herbs associated with relaxation. Research already supports lavender oil as being effective in inducing deep and restorative sleep.
Lavender tea is also effective in reducing anxiety and depression, according to the results of a recent clinical trial. In this study, 60 elderly participants were randomised to consume 2g of lavender as tea, twice a day for a fortnight. Lavender tea was shown to reduce anxiety and depressive scores at the end of the study period. The essential oils present in lavender account for their relaxing effects. The olfactory receptors (smell) in the nose are sensitive to the calming effects of lavender, making lavender tea an effective aromatherapeutic tea. Enjoying the floral aroma of a cup of lavender tea as you sit in your favourite comfy chair helps create a lovely cocoon, perfect for deep sleep.
Passionflower Tea
Passionflower is widely used in Western herbal medicine as an anxiolytic and sleep aid, particularly for extreme sleep issues or insomnia. Passionflower has naturally occurring polyphenols which have anti-inflammatory and antioxidant properties. This plant contains flavonoids, including apigenin, quercetin and kaempferol. As a herbal extract, passionflower is frequently used in natural medicine to address symptoms associated with general anxiety disorder.
A double-blind study was published in Phytotherapy Research assessing the impact on sleep quality from passionflower tea. A small group of young, healthy participants were randomised to consume either a cup of passionflower tea or a control tea for a week. During the study, each participant completed a sleep diary with some positive overall results. By the end of the study, sleep quality had improved significantly in the group who consumed passionflower tea.
Passionflower tea is made using the dried leaves of the passiflora incarnata plant. When consumed as a tea, passionflower can relieve restlessness, calm the nervous system and is a mild sedative. Passionflower tea is pale green when brewed, with a honey and floral flavour profile. Enjoy a cup of relaxing passionflower tea, sinking into your favourite comfy spot as you unwind for the night.
Lemon Balm Tea
Lemon balm (Melissa officinalis) is another commonly used herbal remedy in natural medicine. Lemon balm is native to the Mediterranean region and Asia and has been enjoyed as lemon balm tea for insomnia and anxiety. Historically it's been used for over 2000 years. Lemon balm has been proven in scientific studies to be a stress reducing herb. A study examining lemon balm extract established its calming effects on the brain and nervous system. Lemon balm appears to maintain GABA levels in the brain, promoting longer periods of feeling restful and relaxed.
Lemon balm is related to the mint plant family, and when brewed as a tea, it imparts a lemony, slightly sharp taste which is refreshing and calming. On its own it is mildly sedative, yet when combined with other teas, like lavender and camomile, the calming effects are enhanced with an entirely new tea flavour.
References
Bazrafshan, M. R., Jokar, M., Shokrpour, N., & Delam, H. (2020). The effect of lavender herbal tea on the anxiety and depression of the elderly: A randomized clinical trial. Complementary therapies in medicine, 50, 102393. https://doi.org/10.1016/j.ctim.2020.102393
Cases, J., Ibarra, A., Feuillère, N., Roller, M., & Sukkar, S. G. (2011). Pilot trial of Melissa officinalis L. leaf extract in the treatment of volunteers suffering from mild-to-moderate anxiety disorders and sleep disturbances. Mediterranean journal of nutrition and metabolism, 4(3), 211–218. https://doi.org/10.1007/s12349-010-0045-4
Chang, S. M., & Chen, C. H. (2016). Effects of an intervention with drinking chamomile tea on sleep quality and depression in sleep disturbed postnatal women: a randomized controlled trial. Journal of advanced nursing, 72(2), 306–315. https://doi.org/10.1111/jan.12836
Goel, N., Kim, H., & Lao, R. P. (2005). An olfactory stimulus modifies nighttime sleep in young men and women. Chronobiology international, 22(5), 889–904. https://doi.org/10.1080/07420520500263276
Kieling, D. D., & Prudencio, S. H. (2019). Blends of lemongrass derivatives and lime for the preparation of mixed beverages: antioxidant, physicochemical, and sensory properties. Journal of the science of food and agriculture, 99(3), 1302–1310. https://doi.org/10.1002/jsfa.9305
Ngan, A., & Conduit, R. (2011). A double-blind, placebo-controlled investigation of the effects of Passiflora incarnata (passionflower) herbal tea on subjective sleep quality. Phytotherapy research : PTR, 25(8), 1153–1159. https://doi.org/10.1002/ptr.3400
Türközü, D., & Şanlier, N. (2017). L-theanine, unique amino acid of tea, and its metabolism, health effects, and safety. Critical reviews in food science and nutrition, 57(8), 1681–1687. https://doi.org/10.1080/10408398.2015.1016141
Unno, K., Noda, S., Kawasaki, Y., Yamada, H., Morita, A., Iguchi, K., & Nakamura, Y. (2017). Reduced Stress and Improved Sleep Quality Caused by Green Tea Are Associated with a Reduced Caffeine Content. Nutrients, 9(7), 777. https://doi.org/10.3390/nu9070777
Watson, E. J., Coates, A. M., Kohler, M., & Banks, S. (2016). Caffeine Consumption and Sleep Quality in Australian Adults. Nutrients, 8(8), 479. https://doi.org/10.3390/nu8080479