The Calming Benefits of Chamomile Tea
Posted by Elise Goldsworthy BHSc (Nutrition Science) on 5th Apr 2022
If ever there was a tea synonymous with calmness, it would have to be chamomile tea. Bearing a subtle floral sweetness, and a beautiful pale yellow colour, this tea helps to relieve stress, promoting stillness and relaxation. Chamomile tea is a wonderful pre-sleep tea, preparing you as you drift away for a peaceful sleep.
Did you know there's more than one variety of chamomile tea? German, Roman and Egyptian chamomile teas all offer the same feelings of relaxation, with some slight differences in aroma and tasting notes. Learn all about this humble tea, made from sweet flower buds and how you can reap the many health benefits.
What is Chamomile tea?
Chamomile tea is a herbal tea or tisane made from the petals of the chamomile plant. The flowers are pure white with a yellow centre and are related to the daisy from the botanically named, Asteraceae. Early evidence of this tea has been found in ancient Egypt and Rome. In these regions it was used as a natural remedy for digestion, fever and skin health. Fresh flowers were also used for a variety of topical applications, and dried petals were preferable in tea-making. Chamomile has even been used as a flavouring for beer during medieval times.
Chamomile tea is naturally caffeine-free and is a refreshing brew at any time of day, yet particularly popular as a bedtime tea. The simple brewing method of adding hot water makes this a fragrant and enjoyable cup for almost anyone, including children.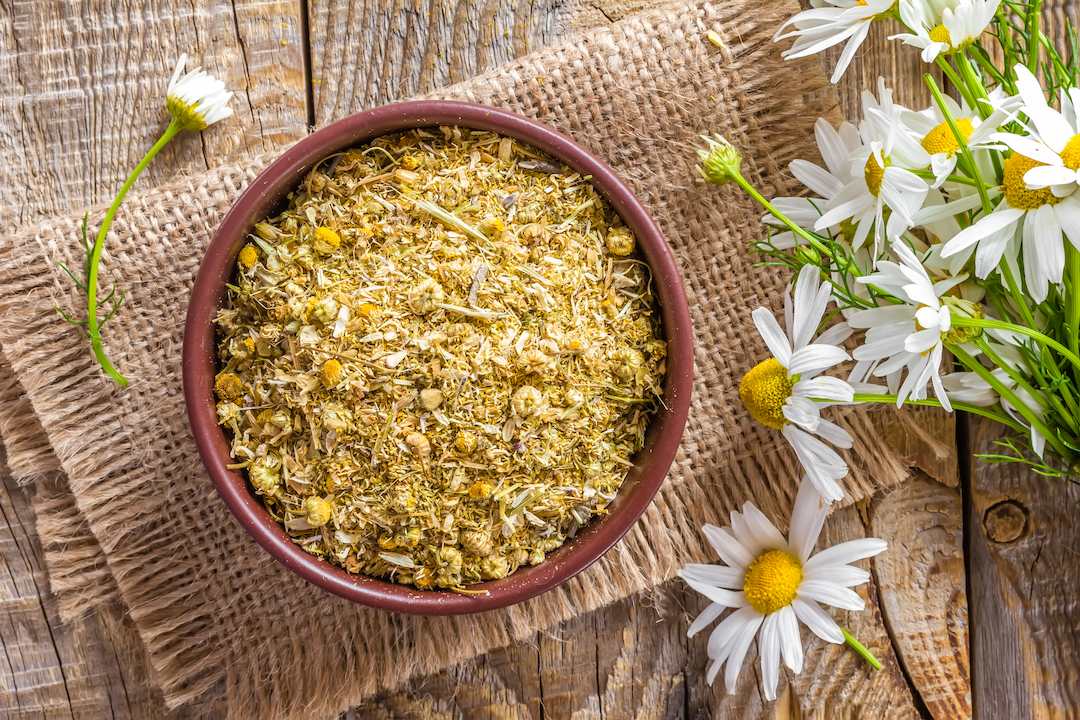 Flavour & Aroma
The flavour of chamomile tea can be described as subtle and floral. It has a beautiful bouquet and makes a wonderful aromatic herbal tea. Chamomile has some grassy notes with hints of green apple. The word chamomile is actually derived from the Greek word chamaimelon, which translates to earth apple.
Chamomile tea is refreshing yet smooth. It has a sweet aroma and the colour of the tea is a delicate primrose yellow. It pairs very well with other flavours, such as green tea, lemongrass or honey. Chamomile blends, such as Honeybush Caramel are a wonderful celebration of what herbal teas do best. This tea is both uplifting yet calming with some immune-boosting qualities.
Types of Chamomile Tea
There are a few varieties of chamomile plants that are used for chamomile tea. One of the more common species is Matricaria recutita, which goes by other names including German chamomile, blue chamomile or scented mayweed. Then there is Egyptian and Roman chamomile species, both of which have different flavour profiles. Egyptian chamomile is highly regarded for its sweet and floral flavour. Roman chamomile leans towards stronger and more bitter tasting notes compared to the former two varieties. Each type has distinctive qualities and if you can source them individually they are worth sampling. Here's an overview of these three types of chamomile tea.
German Chamomile
Perhaps the most commonly found chamomile variety is German chamomile. This variety is a member of the Asteraceae family and originates from south-east Europe. The plant has a smooth stem, which grows up to 60cm in low lying areas and enjoys full sun. German chamomile flower petals are white with a yellow disc floret, and usually bloom in early summer.
German chamomile is reminiscent of crisp apples and is highly palatable for most people. It lends well to sweet flavours such as honey or blends into other fruity herbal teas. German chamomile is typically more fragrant than Roman chamomile, thanks to the high levels of aromatic terpenes, including farnesene and chamazulene. These compounds are what give German chamomile its anxiolytic and calming effects.
These same compounds are used to settle upset stomachs, calm inflamed skin and act as general anti-inflammatory agents. German chamomile has long been used as an antispasmodic in the digestive tract and in reproductive health. The Latin origins of this plant name, Matricaria translates to 'womb'. This chamomile genus has been used in herbal medicine in women's health for premenstrual stress, cramping and pain.
Roman Chamomile
Roman chamomile (Chamaemelum nobile) is commonly known as English chamomile or mother's daisy. This chamomile variety is smaller and different to its German counterpart, with flowers that appear silvery-white. The flowers are slightly round with very thick leaves, which protrude from a single stem. Roman chamomile is local to Western Europe and grows perennially, compared to the annual growing characteristics of German chamomile.
So how does Roman chamomile differ in taste to German chamomile?
Roman chamomile is more robust, boasting more bitterness. It is better suited for blending with other chamomile types, or different herbal blends entirely. Due to its strong acrid flavour, Roman chamomile pairs well with more rounded, smooth teas, such as rooibos tea. Not for the faint of heart, Roman chamomile packs more punch compared to Egyptian and German varieties. Yet, it holds its own in terms of flavour, aroma and health benefits.
Egyptian Chamomile
Egyptian chamomile is altogether different. It is highly revered as a top quality chamomile tea. Uniquely native to Egypt, in the area surrounding the Nile. Egyptian chamomile is different in flavour compared to Roman and German chamomile teas. It has more of an earthy flavour with sweet and fragrant top notes. This unusual flavour profile is due to the 'terroir' in which Egyptian chamomile grows. The fertile, nutrient-dense soil of the Nile valley provides a more robust and intense yet smooth flavoured tea compared to its European chamomile cousins. Egyptian chamomile is so special, it's typically enjoyed on its own for a full appreciation of the depth of flavour it imparts.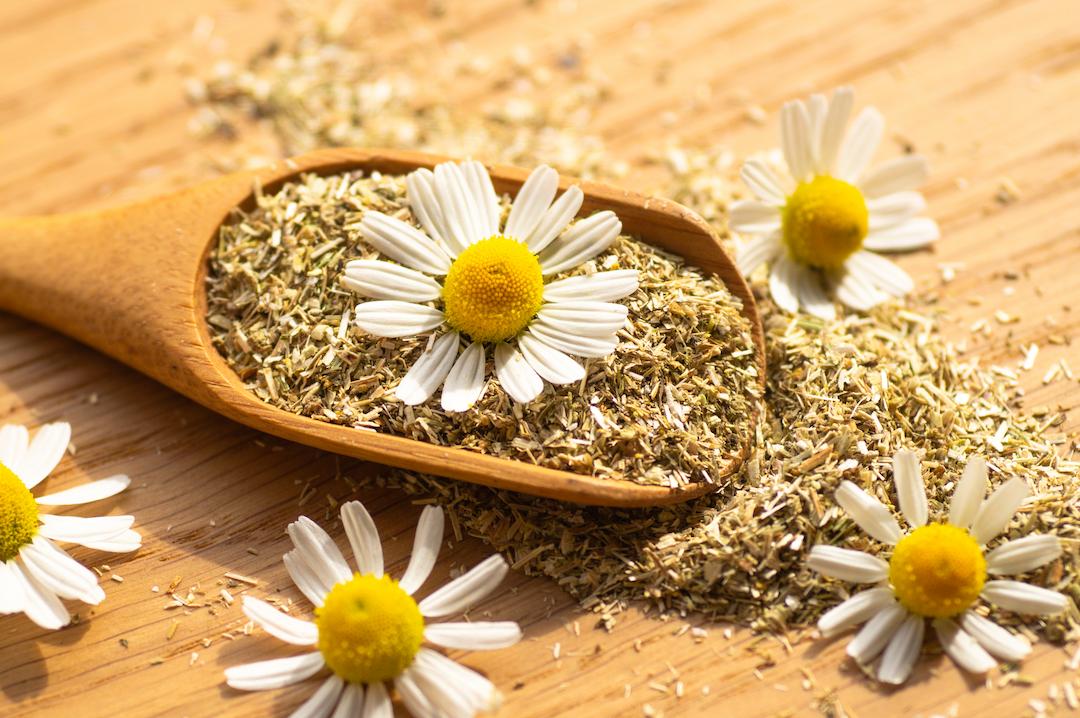 Health Benefits of Chamomile Tea
Everyone knows chamomile is the world's most calming tea. It's caffeine-free and full of herbal health benefits. But what else is chamomile tea good for? There's more to this primrose brew than you'd ever think. Here's some of the health benefits of chamomile tea.
Reduces anxiety
Promotes calmness
Supports immunity
Soothes irritated skin
Cardioprotective
Anti-diabetic
Supports digestion
Relieves pain and cramping
Anti-inflammatory
Antimicrobial
Induces Relaxation
The calming effects from chamomile tea are thought to arise from the high polyphenol content. The apigenin, which is a bioflavonoid, mimics the effects of GABA in the nervous system. GABA is a calming neurotransmitter which settles the brain and body for rest. This is a similar effect found in oolong tea. These and other compounds in chamomile tea can also help to stimulate dopamine and serotonin production. These are the body's 'happy and relaxed' neurotransmitters. They also help reduce systemic inflammation, calming a busy mind and body. Chamomile tea also has compounds that help to relax tight muscles and relieve tension. This is great news if you're looking for tea that helps unwind the mind and prepares you for a restful sleep at the end of the day.
Supports Digestion
As a herbal medicine, chamomile tea has been used across cultures to alleviate digestive problems. It is commonly used with other herbs to treat colic in babies. It is also a natural carminative, relieving bloating and upset tummies. Chamomile is a natural anti-spasmodic, making it very useful in various conditions affecting the digestive tract. Relaxing the oesophageal sphincter can relieve heartburn, while settling the intestines can reduce gas buildup and alleviate irritable bowels.
Supports Glucose Tolerance
In a recent randomised controlled trial, chamomile tea was investigated for its effects on glycemic control and cholesterol levels. The results showed that after 8 weeks of chamomile tea consumption, the participants had various improved outcomes. There was significantly decreased glycosylated haemoglobin, insulin and total cholesterol levels compared with the control group. Chamomile may play a role in the management of diabetes and metabolic conditions.
Relieves Skin Irritations
Topically, chamomile can be a very effective remedy for many skin conditions. Eczema, dermatitis, acne, swelling and puffiness can all be alleviated using chamomile tea.
Chamomile Soak
Add a cup of fresh chamomile flowers (or 6 tea bags) to a bath and soak for 20 minutes for minor itchiness, irritation or dryness. The polyphenols in chamomile make this tea a natural antioxidant remedy, which reduces signs of ageing and can assist in healing the skin.
Chamomile Eye Remedy
Do you suffer from puffiness around the eyes?
Simply brew a couple of chamomile tea bags in hot water, allow to cool completely and remove the bags. Place the cooled chamomile tea bags over the eyes and rest for 10 minutes. The swelling should be reduced and your skin should look and feel calm and refreshed.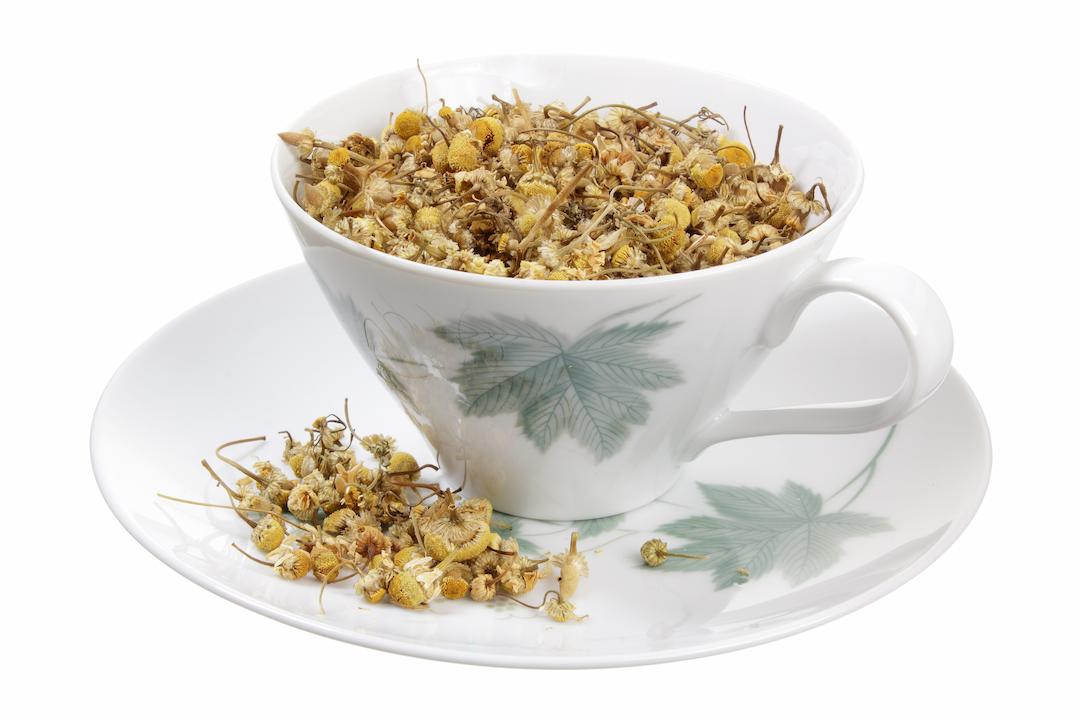 How To Brew Chamomile Tea
Organic and loose leaf teas are usually better in flavour and have more potent health benefits. They are the least processed and therefore retain many of their health-giving characteristics.
When it comes to chamomile tea, you want to identify whole flowers and buds that are intact, ensuring a premium quality brew every time. It's more common to find dried chamomile flowers than fresh flowers, however a lovely tea can be made either way.
For tea bags, again look for discernable whole flowers in each bag. Your chamomile tea bags should be large enough to allow the flowers to open during their brew time, maximising their flavour and aroma.
Fresh Chamomile
For a fresh chamomile tea, place chamomile flowers in hot water and steep for up to 5 minutes. Strain the tea using a tea strainer to remove the flowers. Enjoy your relaxing golden brew!
Dried Chamomile
Making a calming cup of chamomile tea couldn't be easier. Follow these simple steps for a lovely brew each and every time.
Step 1: Prepare Chamomile Flowers
Loose leaf or bagged, dried chamomile tea is a simple joy to brew and sip. For loose chamomile flowers, use 1 heaped teaspoon in 200ml of water.
For tea bags, follow the instructions, which will likely be - 1 tea bag per person.
Step 2: Boil Water
Chamomile tea benefits from filtered, freshly boiled water. Boil the kettle or on the stovetop, bring water to the boil. Add your water to your chamomile tea for steeping.
Step 3: Steep
Allow your tea to steep for around 5 minutes, or up to 10 minutes for what's known as a 'therapeutic dose' in herbal medicine. Alternatively, one serve or bag of chamomile can yield two or three infusions. This means you can top up with freshly boiled water rather than starting over with a new brew.
Step 4: Sweeten as Desired
Chamomile tea is truly special simply on its own. It has a natural, earthy and slightly sweet flavour that needs no embellishment. It would be, as they say, gilding the lily… (Except, gilding the chamomile flower!).
However, if you feel the need for some extra sweetness, a squeeze of raw honey is all you need to echo the natural flavours of this delightful herbal tea.
Soothe Your Senses with a Cup of Chamomile
Chamomile tea helps with digestion, aids in sleep and is a wonderful, gentle anti-inflammatory beverage. The fragrance alone can transport you to a place of calm. Whether it's a classic German chamomile, a Roman or Egyptian variety - there's sure to be a beautiful bouquet of chamomile awaiting in a brew just for you. Enjoy your pretty primrose tea before bed to unwind or at any time of the day.
References
Chamomile. (2021). In Drugs and Lactation Database (LactMed). National Library of Medicine (US).
Chang, S. M., & Chen, C. H. (2016). Effects of an intervention with drinking chamomile tea on sleep quality and depression in sleep disturbed postnatal women: a randomized controlled trial. Journal of advanced nursing, 72(2), 306–315. https://doi.org/10.1111/jan.12836
Keefe, J. R., Mao, J. J., Soeller, I., Li, Q. S., & Amsterdam, J. D. (2016). Short-term open-label chamomile (Matricaria chamomilla L.) therapy of moderate to severe generalized anxiety disorder. Phytomedicine : international journal of phytotherapy and phytopharmacology, 23(14), 1699–1705. https://doi.org/10.1016/j.phymed.2016.10.013
Lin, T. K., Zhong, L., & Santiago, J. L. (2017). Anti-Inflammatory and Skin Barrier Repair Effects of Topical Application of Some Plant Oils. International journal of molecular sciences, 19(1), 70. https://doi.org/10.3390/ijms19010070
McKay, D. L., & Blumberg, J. B. (2006). A review of the bioactivity and potential health benefits of chamomile tea (Matricaria recutita L.). Phytotherapy research : PTR, 20(7), 519–530. https://doi.org/10.1002/ptr.1900
Poswal, F. S., Russell, G., Mackonochie, M., MacLennan, E., Adukwu, E. C., & Rolfe, V. (2019). Herbal Teas and their Health Benefits: A Scoping Review. Plant foods for human nutrition (Dordrecht, Netherlands), 74(3), 266–276. https://doi.org/10.1007/s11130-019-00750-w
Rafraf, M., Zemestani, M., & Asghari-Jafarabadi, M. (2015). Effectiveness of chamomile tea on glycemic control and serum lipid profile in patients with type 2 diabetes. Journal of endocrinological investigation, 38(2), 163–170. https://doi.org/10.1007/s40618-014-0170-x
Sebai, H., Jabri, M. A., Souli, A., Rtibi, K., Selmi, S., Tebourbi, O., El-Benna, J., & Sakly, M. (2014). Antidiarrheal and antioxidant activities of chamomile (Matricaria recutita L.) decoction extract in rats. Journal of ethnopharmacology, 152(2), 327–332. https://doi.org/10.1016/j.jep.2014.01.015
Srivastava, J. K., Shankar, E., & Gupta, S. (2010). Chamomile: A herbal medicine of the past with bright future. Molecular medicine reports, 3(6), 895–901. https://doi.org/10.3892/mmr.2010.377
Wikipedia Contributors. (2022, March 22). Chamomile Tea. Retrieved from Wikipedia website: https://en.wikipedia.org/wiki/Chamomile#Tea_.2F_Herbal_Infusion, viewed March 22, 2022
Wikipedia Contributors. (2022, March 22). Matricaria Chamomilla. Retrieved from Wikipedia website: https://en.wikipedia.org/wiki/Matricaria_chamomilla#Use_in_human_medicine, viewed March 22, 2022
Yeung, K. S., Hernandez, M., Mao, J. J., Haviland, I., & Gubili, J. (2018). Herbal medicine for depression and anxiety: A systematic review with assessment of potential psycho-oncologic relevance. Phytotherapy research : PTR, 32(5), 865–891. https://doi.org/10.1002/ptr.6033