The Perfect Chai Latte
Posted by Elise Goldsworthy BHSc (Nutrition Science) on 7th Apr 2022
Ah… Chai latte! You can almost taste the warm spices and luxurious frothy milk right now. This spiced-tea drink has become especially popular over the last decade. Most coffee shops nowadays feature a delicious and warming chai latte on their menu. Whether you're new to chai or a seasoned latte lover, here's all you need for the perfect chai latte.
But what exactly is a chai latte? And what's the secret to making it just right?
It's sweet with gentle spice. It's creamy, frothy and comforting. And the good news is, chai lattes aren't that difficult to make at home. You can make them using spices you've already got in your pantry. After mastering some basics of this Indian drink, you'll soon be whipping up a chai every day.
History of Chai
The core ingredients for a chai latte are chai tea mixed with some spices. The word 'chai' translates to tea and it is a well loved beverage in Indian culture. It's a part of everyday life, community events, weddings and ceremonies alike. In India and now around the world, chai tea is widely available at marketplaces and in coffee shops. Chai has a distinctive fragrance and taste. When ordered at a cafe, it's detectable from across tables if your neighbouring patrons were to order one. What we in the west identify as a chai latte has its roots in the traditional Indian masala chai.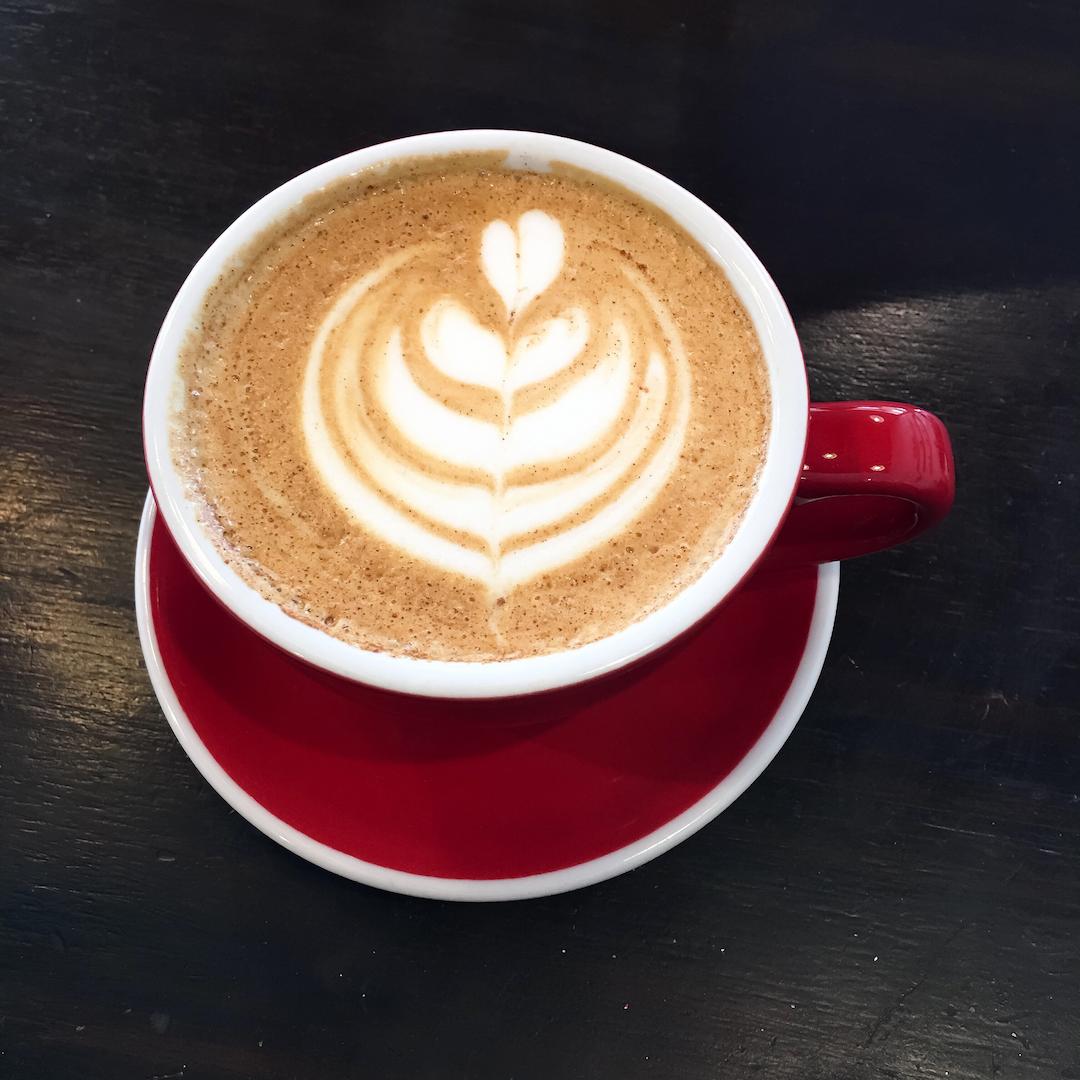 What Are Chai Lattes?
A chai latte is a modern take on an Indian masala chai. This hot beverage is brewed from infused spices and tea that is sometimes loose leaf or powdered. There are specific spices, known as a karha, that go into a chai latte. These are cinnamon, clove, ginger, black pepper and cardamom.
A traditional masala chai may omit the cinnamon and clove, which naturally makes the drink spicier boasting more pungent tasting notes. Sometimes the infusion is made entirely with simmering milk. Otherwise chai can be made using freshly boiled water with a dash of milk added at the end. Chai is commonly brewed using black tea leaves or oolong tea leaves. Darjeeling, Keemun, Assam and Sri Lankan Ceylon teas all work beautifully as a base for a classic chai latte.
There are also several regional variations to a chai latte, which takes the flavour to a whole different level. In Western India, cloves and pepper are not included, and are instead replaced by lemongrass. What a fresh, lemony spin on a chai! In the northern parts of India, near Kashmir, they're version of chai is brewed with green tea, almonds and even saffron. Some other varieties, like the Punjabi Chai contain rose petals for a delicate twist on this warming drink.
Once you've landed on your favourite spice combination, you can then make a totally new chai creation. Chai lattes can be made vegan, gluten-free and dairy free to suit your dietary needs. Play with temperature, texture and taste to find your version of a perfect chai latte.
Taste & Aroma
It's warm like Christmas Day or your favourite Autumn afternoon. As soon as a crisp and cool edge hits the air and tree leaves lean to shades of burgundy, burnt peach and gold, you know it's time for a chai latte. Enjoy the undeniable comfort of cinnamon, earthy cardamom, invigorating ginger and mild aniseed of clove. What's not to love? The combination of chai spices are subtle yet satisfying. And what's better, when making a chai latte at home, you're in control of each spice. So you can turn the volume up or down depending on your mood, the weather, the company you're in!
Chai lattes are often underscored by a full-bodied black tea. You get a hint of caffeine for a lift of energy in the morning or afternoon. Going the extra mile of brewing your own chai gives you lovely hints of sweetness, spice and all things nice. Once you've rounded out the drink with frothed milk, and a dash of honey or sugar to taste, your warming mug of chai is complete.
Health Benefits of Chai Lattes
Black tea on its own has a range of wonderful health benefits. Yet, a chai latte has some superpowers, thanks to the addition of each spice. From balancing digestion to improving circulation, a warm mug of chai will surely help whatever may be ailing you. Here's a snapshot of what makes a chai latte so healthy.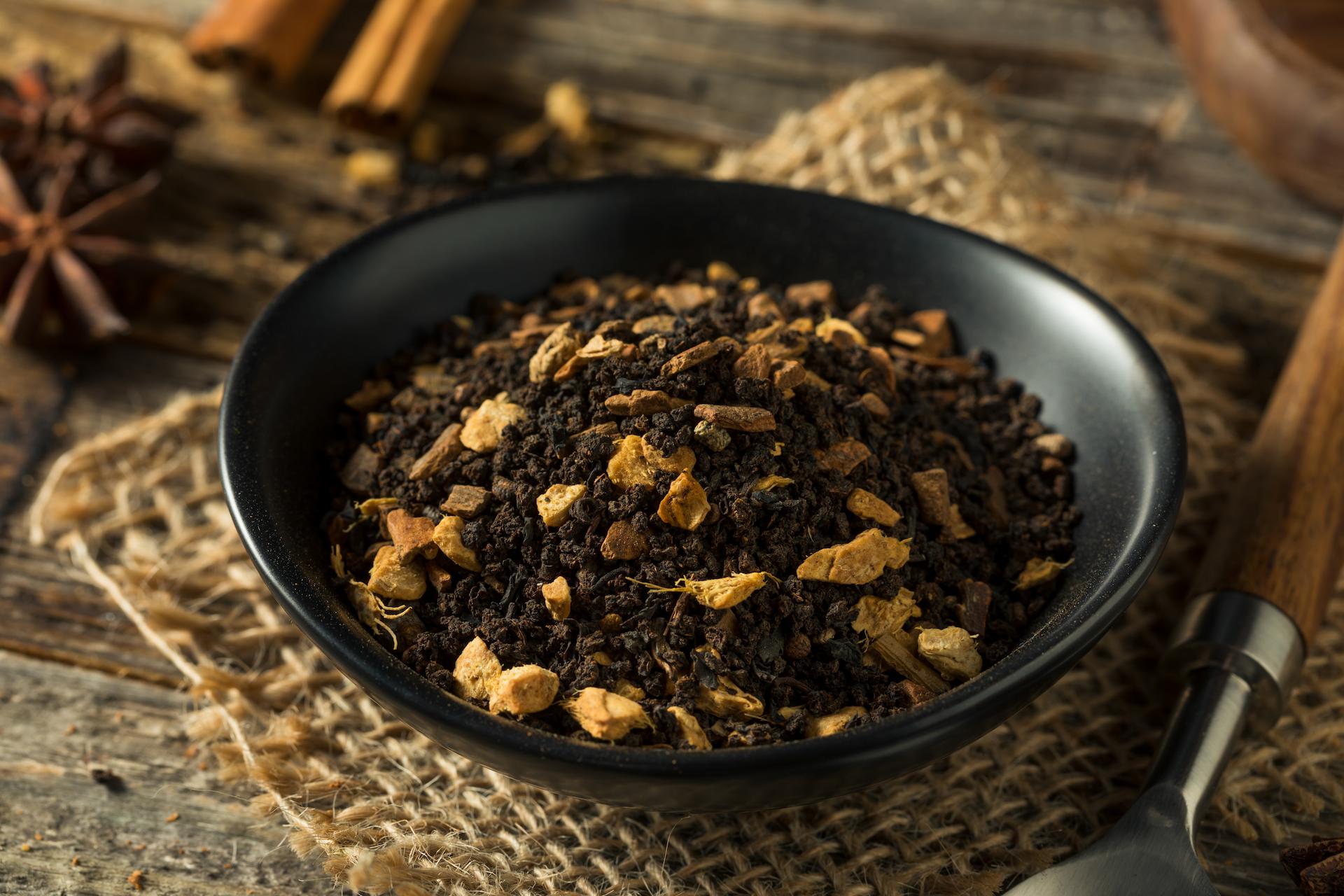 Ginger
Revered in Ayurvedic medicine, Chinese medicine and now in western medicine, ginger is one mighty little rhizome. Ginger is broadly anti-inflammatory, which can help with digestion, muscle aches and joint pain. Ginger famously also helps relieve symptoms of nausea, which can be useful in travel sickness, pregnancy and indigestion. A recent systematic review concluded that alongside digestive support, ginger was also useful in boosting metabolism and reducing the effects of colon cancer.
Clove
Cloves give chai tea their characteristic aniseed flavour. Like little black spokes, these little herbs are actually flowers belonging to the Syzygium aromaticum plant. Their medicinal properties are mostly due to the high eugenol content, which is also found in nutmeg and basil. Cloves are one of nature's most effective anti-fungal remedies. Clove oil also has local anaesthetic and anti-inflammatory properties that may help manage minor pain conditions.
Cinnamon
If you've ever held a curled up quill of fresh cinnamon, you know it's just begging to be snapped in half to reveal the earthy, warming aroma. Cinnamon has long been used in traditional Chinese and Ayurvedic medicine as a digestive aid. Modern research now supports its use as a therapeutic spice. Cinnamon helps slow down digestion in the large intestine and is well known to enhance glucose transport and support insulin function. Some research has shown cinnamon to be effective at reducing cardiovascular disease outcomes, including high cholesterol.
How To Make The Perfect Chai Latte
You've got to think like a latte to be a latte. Of course this means when making a chai latte, it starts with frothed milk. This imparts a creamy, velvety flavour and texture. The addition of frothed milk means every sip of your chai latte is infused with refreshing black tea, warming spices and sweet hints that carry throughout the whole cup.
Next, gather your spices. For a perfect chai latte, the other ingredients need to be impeccable as well. Green cardamom, black peppercorns, true cinnamon, fresh ginger and cloves will give you the most gorgeous, aromatic chai latte you've ever encountered. Freshly ground using a mortar and pestle (or blitz in a coffee grinder) will also ensure you've got the freshest, zingiest flavour possible. But if your eyes are darting up at the spice rack as you read this, mentally checking off ground versions of each spice, they'll work nicely too.
Finally, add your sweetener. A squeeze of raw honey pairs perfectly with a traditional chai. A teaspoon of sugar, dash of maple syrup is also lovely. Or skip these entirely and enjoy the fragrant orchestra of spices in your warm little mug.
How To Brew Your Own Chai Latte
Here's how to brew your own chai as well as some delicious variations below.
Ingredients
2 cups filtered water
1 thumb-size piece of ginger, sliced
2 cinnamon quills
4 black peppercorns
8 cardamom pods
8 cloves
4 black tea bags
2 cups of milk
Method
Grind the spices using a spice grinder, mortar & pestle or a coffee grinder. An old-school zip lock bag and meat mallet will also do the trick, to pulverise the spices into smithereens.
Add the freshly ground spices to a small saucepan and pour over your water.
Bring the spice mix to a rolling boil
Turn down the heat to medium, and ideally just below boiling (use thermometer to check). Add tea bags or loose leaf tea leaves
Steep your chai tea for up to 10 minutes for a robust flavour. Check for your desired brew strength and flavour by tasting at intervals.
Meanwhile, in another saucepan, bring the milk to a gentle boil. Carefully, use a milk frother or immersion blender to whip the milk up into a soft foam.
Pour the tea mixture into a mug and add the milk and stir to combine. The result should be a frothy, creamy and fragrant drink, ready to serve.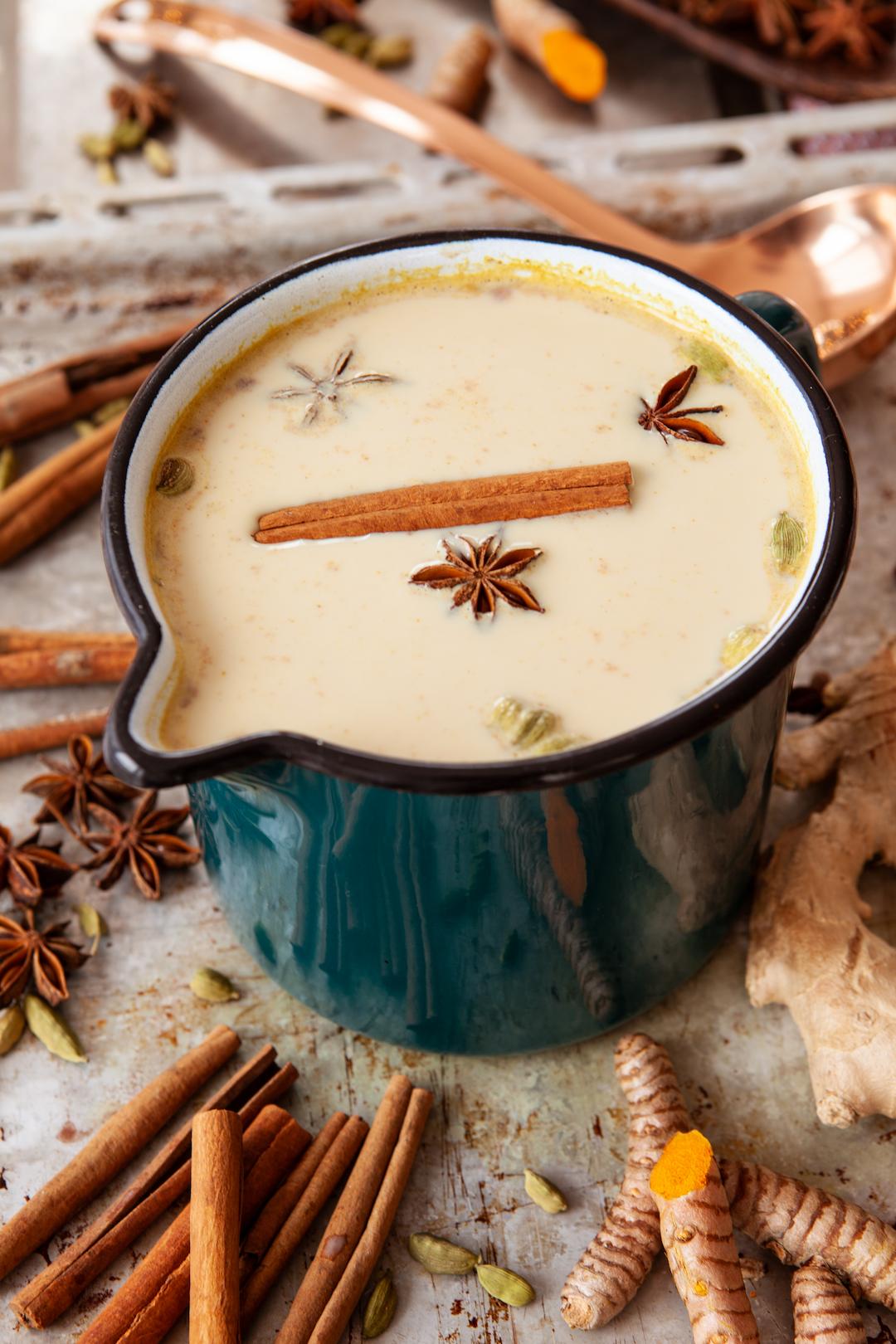 Top Brewing Tips
If you really love your chai lattes and want to make them like a master, a little prep goes a long way. The chai base (chai concentrate) can be brewed and stored ahead of time. Grinding the spices in batches and storing them in bags or airtight containers also saves effort for your future brews.
Delicious Chai Latte Variations
As if a chai latte wasn't complex and intriguing enough in its flavour profile. But if you're the sort of person who doesn't have a 'that's enough' switch, feel free to experiment with some of these creations. Make a chai latte that's completely your signature. Enjoy!
Coconut Chai Latte
For a delicious, full-fat yet dairy-free chai, try this version on for size. Coconut milk is a very healthy milk alternative in your chai. Coconut milk is rich in medium-chain triglycerides which are brain and heart-healthy. In fact, switching up your milk can sometimes completely change the depth of flavour and texture, and delight the senses. Try almond milk, macadamia milk and hemp milk for some extra adventure.
Dirty Chai Latte
For me, this is the best of both worlds. Sweet, spicy and with a shot of coffee! While it's not a traditional chai made with black tea, it's certainly a wonderful way to wake up. Simmer your spices in milk, froth them up and add to your favourite espresso coffee. Heaven!
Roobois Chai Latte
Need a break from the caffeine in your day? This is a gorgeous, red velvet-style chai that is both healthy and invigorating. Brew your chai as usual, then add rooibos loose leaf tea or bags to the mix. Gorgeous with a dash of honey and a final flourish of cinnamon on top. Fancy a red cappuccino? Umm, yes please.
Dandy Chai Latte
This was a favourite warming treat during uni days. Dandelion chai or a 'dandy chai' as they are sometimes known, have a sweet, chicory flavour balanced with lovely chai spices. Dandelion root helps to balance blood sugar and has anti-inflammatory properties. Dandelion is also naturally caffeine-free, yet has a robust flavour that can replace your afternoon coffee. This variation can be made in the same way as a usual chai brew, replacing black tea or an immersion of ground dandelion root (dandelion coffee). A dandy chai is both delicious and decidedly different from a regular chai latte.
References
Alqareer, A., Alyahya, A., & Andersson, L. (2006). The effect of clove and benzocaine versus placebo as topical anesthetics. Journal of dentistry, 34(10), 747–750. https://doi.org/10.1016/j.jdent.2006.01.009
Anh, N. H., Kim, S. J., Long, N. P., Min, J. E., Yoon, Y. C., Lee, E. G., Kim, M., Kim, T. J., Yang, Y. Y., Son, E. Y., Yoon, S. J., Diem, N. C., Kim, H. M., & Kwon, S. W. (2020). Ginger on Human Health: A Comprehensive Systematic Review of 109 Randomized Controlled Trials. Nutrients, 12(1), 157. https://doi.org/10.3390/nu12010157
González-Castejón, M., Visioli, F., & Rodriguez-Casado, A. (2012). Diverse biological activities of dandelion. Nutrition reviews, 70(9), 534–547. https://doi.org/10.1111/j.1753-4887.2012.00509.x
Mao, Q. Q., Xu, X. Y., Cao, S. Y., Gan, R. Y., Corke, H., Beta, T., & Li, H. B. (2019). Bioactive Compounds and Bioactivities of Ginger (Zingiber officinale Roscoe). Foods (Basel, Switzerland), 8(6), 185. https://doi.org/10.3390/foods8060185
Sharma, S., Mandal, A., Kant, R., Jachak, S., & Jagzape, M. (2020). Is Cinnamon Efficacious for Glycaemic Control in Type-2 Diabetes Mellitus?. JPMA. The Journal of the Pakistan Medical Association, 70(11), 2065–2069.
Wikipedia Contributors. (2022, March 15). Tea. Retrieved from Wikipedia website: https://en.wikipedia.org/wiki/Tea, viewed March 15, 2022
Wikipedia Contributors. (2022, March 15). Masala chai. Retrieved from Wikipedia website: https://en.wikipedia.org/wiki/Masala_chai, viewed March 15, 2022