What Is Rosehip Tea?
Posted by Elise Goldsworthy BHSc (Nutrition Science) on 7th Jun 2022
Rosehip tea is a sweet, subtle tea and a centuries-old herbal remedy. This ruby red tisane is both beautiful in colour and refreshing in its flavour profile. Rose hip tea is made from the fruit of the rose plant. Rosehips are the round part of the rose flower, just below the petals. Other names of rosehips include rose haw, hipberry and dog rose fruit.
There are two main types of rosehip seeds used to make rose hip tea. These areRosa rugosa and Rosa canina.These plants are native to Africa, Asia and Europe, yet grow very well in the United States and Australia. The fruit itself is a vibrant red or orange and can sometimes be dark purple of black, depending on the cultivated species. Rosehips grow following pollination of the rose flowers. The rosa rugosa species grow well along coastlines and warm climates. Rosa canina varieties tend to thrive in mountainous areas.
You can cultivate your own rosehip tea using garden variety rose plants. Wild rosehips are also commonly used to make rosehip tea. These fruits are ripe in late summer and autumn, ready for harvesting for teas and essential oil. Rosehips form a base for many European foods, including rosehip wine and the Swedish dish nyponsoppa orrose hip soup. Rosehips can also be used in rosehip jam, syrup or in baked foods.
Rosehip tea is caffeine-free and can be brewed with fresh or dried rosehips. Rosehips can be consumed in tea bags or as a loose leaf tisane. It's common for rosehip tea to be found in other herbal tea blends. Typical flavour combinations with rosehip tea are hibiscus, camomile, rooibos, fennel, blackberry or orange.
Flavour & Aroma
While rosehip tea doesn't contain rose petals, the flavour is both floral and tart. There's a distinct sharpness on the palate, which makes it less flowery and more of a refreshing brew suitable for most palates. Straight rosehip tea isn't always easy to find, yet is a delight all on its own. Rosehip tea is a dark red tea with a tangy, sweet flavour and aroma. The flavour notes of rosehip tea are similar to green apples and hibiscus, which may account for these flavours frequently being paired together. A squeeze of honey accentuates the natural sweetness and offsets the tart flavour rosehip offers.
Rosehip shines within other herbal tisane blends. The tanginess of rose hips works well in a Pina Colada tea with classic coconut and pineapple flavours. This simply beautiful and cleansing tea featuring rosehips is like a detox from the inside out. Rosehip tea is also lovely and refreshing as an iced tea. Besides boasting a wonderful, piquant floral flavour, rosehip tea also boasts a few health benefits.
Rosehip Tea Nutrients
Beta-carotene
Zeaxanthin
Lutein
Lycopene
Vitamin C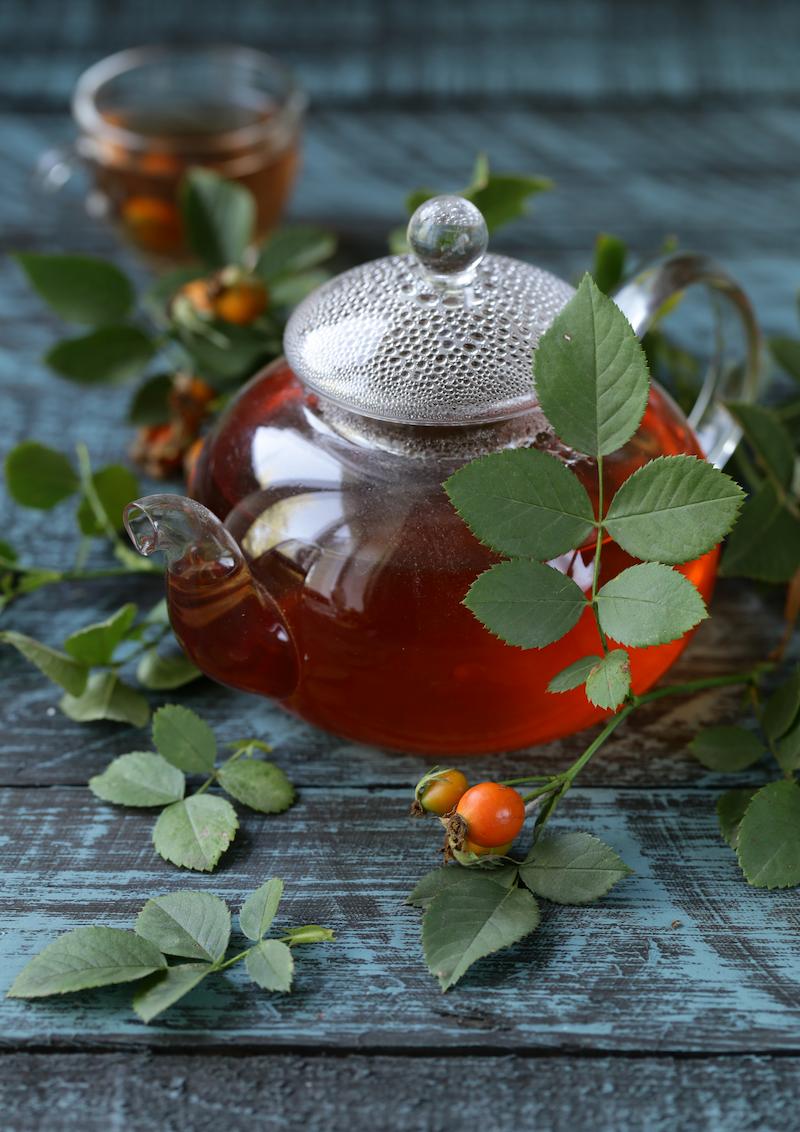 Health Benefits of Rosehip Tea
Rosehips have plenty of health-giving properties, including:
Reduces Pain
Anti-inflammatory
Helps with weight loss
Balances bowel function
Relaxed smooth muscles
Lowers cholesterol
Rosehip Tea Reduces Pain
Rosehips, thanks to their high polyphenol content, have an antioxidant and anti-inflammatory effect in the body. A recent meta-analysis on rose hip powder found that they were effective in reducing knee pain in osteoarthritis sufferers. The same constituents in rosehips that reduce pain in osteoarthritis can also be applied to rheumatoid arthritis and back pain.
Rosehip Tea Helps Weight Loss
A small randomised study including overweight participants was conducted to observe the weight-loss effects of rosehips. The results showed that 100mg of rose hip extract, consumed daily for 12 weeks saw a reduction in abdominal fat and body fat percentage. Total body weight and BMI were also lower at the end of the study in the participants who were randomised to consume rosehip extract. While the mechanism of action for weight loss is not fully understood by researchers, consuming rosehip tea appears to have an effect on weight in obese and overweight individuals.
Rosehip Tea Supports Cardiovascular Health
The antioxidant content in rosehip tea helps maintain a healthy heart and vascular system. This is largely due to the lycopene, beta-carotene and lutein content that rosehips naturally possess. Lycopene has been a well-established cardioprotective compound, protecting blood vessels against oxidative damage. Lycopene is a type of carotenoid, giving rosehips their intense red colour. This compound is also found in watermelon, grapefruit and tomatoes. Consuming rosehip tea has the potential to support cardiovascular health and is as simple as brewing a cup of tea.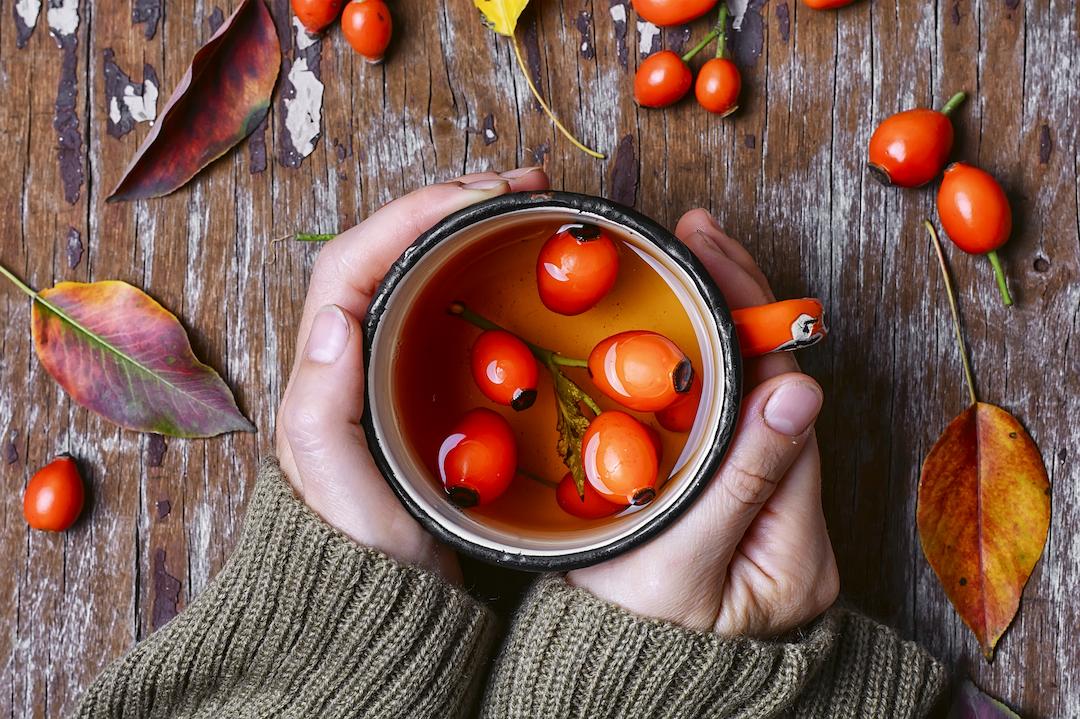 Harvest & Make Your Own Rose Hip Tea
Rose hip tea can be made using the fruit from your very own rose plants or rose bush. Alternatively, if you're feeling like a forest forage, obtaining wild roses to make rose hip tea is also an option. Here's some tips for harvesting and storing your own rose hip tea.
Harvesting Rose Hips
Harvesting your own rose hips is ideally done in autumn, once the rose petals have withered and fallen from the plant. Wear gardening gloves to avoid thorns that roses typically possess. If you can source organically grown rose hips, this will ensure the best quality tea at home. Pesticides can affect the final flavor and health benefits of your rose hip tea.
Dehydrate Your Rose Hips
If you want to ensure you have a stash of rose hips at the ready for tea making, it's best to harvest, dehydrate and store them for later. If you're lucky enough to have a dehydrator, this is the most efficient method for drying. First, dry the rose hips in direct, full sunlight for 4 hours. Then after the buds have changed colour to a more earthen red, transfer them to a dehydrate to continue the drying process.
Storing Rosehip Tea
Store your rose hip tea in the same way as most other teas. Teas should be kept away from moisture, direct sunlight and other aromatic foods. Ideally, store in an airtight container in a cupboard. A wooden box, metal tin or dark container lined with parchment paper are all great ways to ensure your rose hip tea stays fresh and healthy.
How to Brew Rosehip Tea
Brewing rose hip tea couldn't be simpler. Enjoy this tart yet sweet tea using freshly boiled water from a kettle or stovetop. Here's how you do it:
Bring water to a rapid boil in a temperature-controlled kettle or a pot on the stove.
Place a tablespoon of rose rips in your favourite tea infuser. Place the infuser in a teacup.
Pour boiling water into the tea cup and steep the tea for 10 to 15 minutes.
Remove the infuser from the hot water and discard the rosehips.
Add your favourite sweetener if desired or enjoy on its own.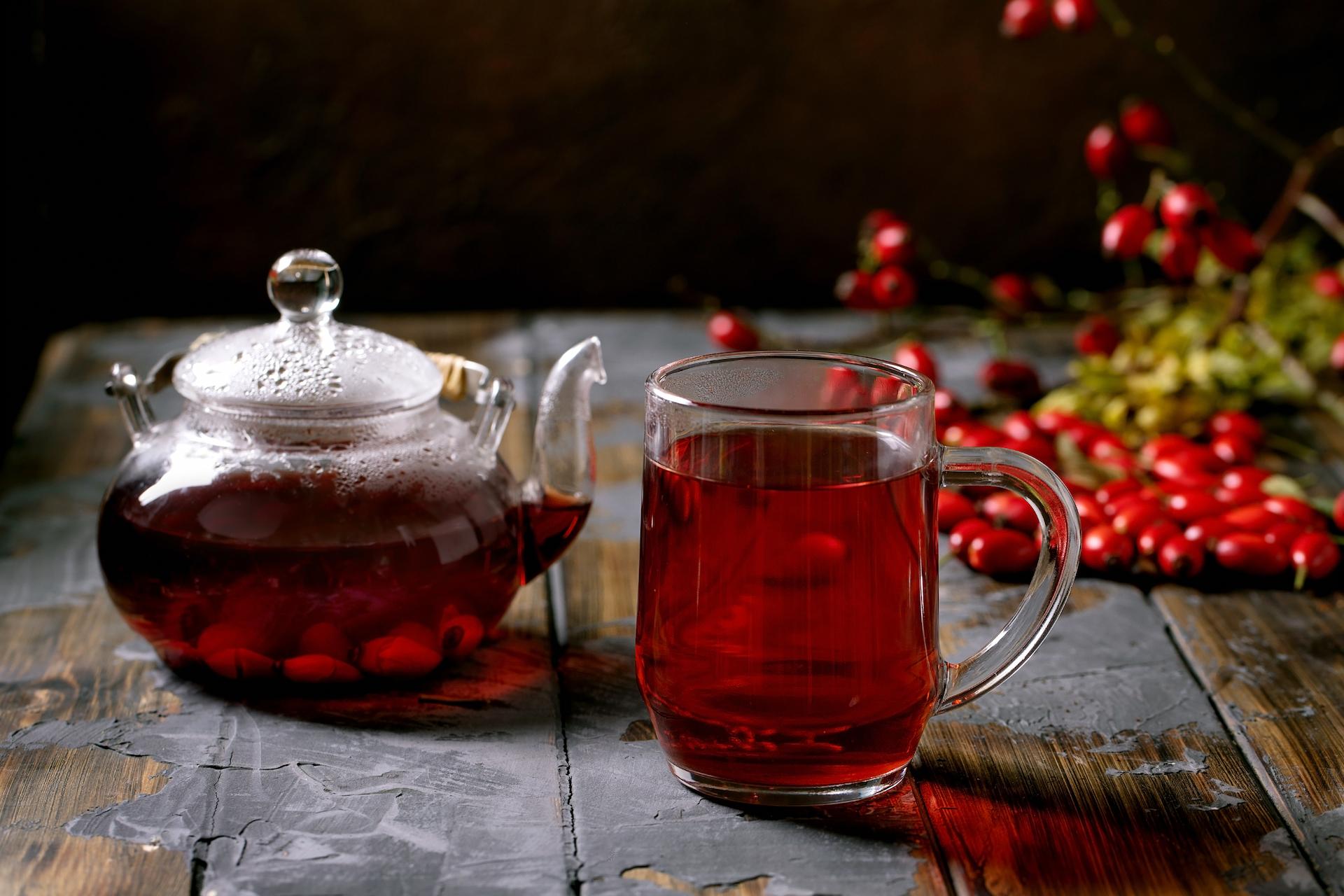 References
Christensen, R., Bartels, E. M., Altman, R. D., Astrup, A., & Bliddal, H. (2008). Does the hip powder of Rosa canina (rosehip) reduce pain in osteoarthritis patients?--a meta-analysis of randomized controlled trials. Osteoarthritis and cartilage, 16(9), 965–972. https://doi.org/10.1016/j.joca.2008.03.001
Chrubasik, C., Roufogalis, B. D., Müller-Ladner, U., & Chrubasik, S. (2008). A systematic review on the Rosa canina effect and efficacy profiles. Phytotherapy research : PTR, 22(6), 725–733. https://doi.org/10.1002/ptr.2400
Gruenwald, J., Uebelhack, R., & Moré, M. I. (2019). Rosa canina - Rose hip pharmacological ingredients and molecular mechanics counteracting osteoarthritis - A systematic review. Phytomedicine : international journal of phytotherapy and phytopharmacology, 60, 152958. https://doi.org/10.1016/j.phymed.2019.152958
Nađpal, J. D., Lesjak, M. M., Šibul, F. S., Anačkov, G. T., Četojević-Simin, D. D., Mimica-Dukić, N. M., & Beara, I. N. (2016). Comparative study of biological activities and phytochemical composition of two rose hips and their preserves: Rosa canina L. and Rosa arvensis Huds. Food chemistry, 192, 907–914. https://doi.org/10.1016/j.foodchem.2015.07.089
Nagatomo, A., Nishida, N., Fukuhara, I., Noro, A., Kozai, Y., Sato, H., & Matsuura, Y. (2015). Daily intake of rosehip extract decreases abdominal visceral fat in preobese subjects: a randomized, double-blind, placebo-controlled clinical trial. Diabetes, metabolic syndrome and obesity : targets and therapy, 8, 147–156. https://doi.org/10.2147/DMSO.S78623
Saaby, L., Jäger, A. K., Moesby, L., Hansen, E. W., & Christensen, S. B. (2011). Isolation of immunomodulatory triterpene acids from a standardized rose hip powder (Rosa canina L.). Phytotherapy research : PTR, 25(2), 195–201. https://doi.org/10.1002/ptr.3241
Wikipedia Contributors. (2022, May 25). Rose hip. Retrieved from Wikipedia website: https://en.wikipedia.org/wiki/Rose_hip, viewed May 25, 2022