Health Benefits of Ginger Tea
Posted by Elise Goldsworthy BHSc (Nutrition Science) on 6th Jun 2022
Ginger is one of the oldest cultivated plants in history. It's widely used in Ayurvedic and Chinese medicine for its incredible health benefits. The ancient Chinese philosopher Confucius allegedly ate ginger with every meal. One of the most nourishing ways to enjoy the flavour, aroma and health benefits of ginger is to drink ginger tea. Ginger tea is a warming, soothing and invigorating drink that can support your immune function, digestion and promote good circulation. This is one simple and delicious tea that is unmatched in flavour and health benefits. Ginger tea is enlivening and rich, yet grounding and good for the soul. Here's all the wonderful things ginger has to offer, in a glorious tea!
What Is Ginger?
Ginger (zingiber officinale) is a plant of which the root is the most commonly used part. Ginger belongs to the Zingiberaceae family of flowering plants and is related to turmeric and galangal. The distribution of worldwide ginger first began in Southeast Asia and quickly moved through India and eventually Europe in the Middle Ages.
Ginger grows in many different climates and regions around the world. However this rhizome particularly likes warm and humid environments at a high elevation. India is a chief global producer of ginger for this reason. Fresh ginger is harvested annually, once the plant reaches full maturity and before the root starts to change and grow too big. The root is harvested from the earth where it's then washed and trimmed. The plucked ginger root is then essentially ready to be sold as is, or it undergoes further processing to become powders, or juices depending on its eventual destination. Ginger is readily available at grocery stores and farmers markets and growing ginger can easily be done right in your own garden.
Most of us have come across ginger in various ways. Crystallised or stem ginger is a popular confectionery. It's a wonderful flavouring in sauces, soups and a vital spice in Southeast Asian curries. Ginger can be pickled, candied, made into soft drinks, used in folk medicine and is a key ingredient in masala chai.
What Is Ginger Tea?
Ginger tea is exactly what it sounds like - fresh or powdered ginger steeped in hot water, made into a delicious hot drink. The flavour and aroma of ginger is unmistakable and incredibly inviting. Ginger has a sweet spiciness that is fragrant and warming. It can be fairly intense in flavour, so adding lemon or honey can soften the harshness ginger imparts. Ginger and lemon are a wonderful flavour combination that's uplifting and light yet comforting all at once. This gorgeous ginger-lemon fruit tea demonstrates this pairing very well.
Ginger tea is a wonderful tonic for nausea and to support digestion as the natural compounds in ginger help settle the stomach. Other than for digestive health, ginger tea is also a wonderful elixir to support immunity and reduce inflammation in the body. Here's a range of health benefits of drinking ginger tea.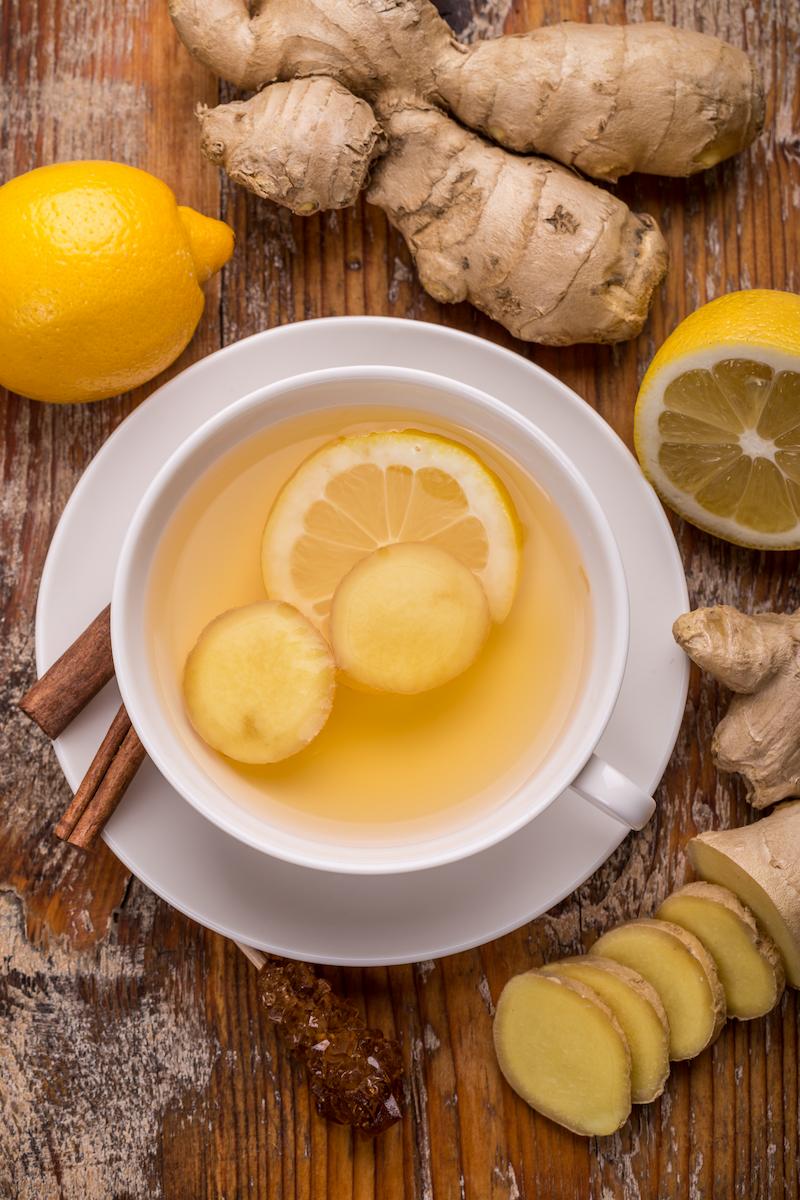 Health Benefits of Ginger Tea
Relieves Nausea
Ginger is a well known remedy for nausea and indigestion. It's also used to relieve morning sickness and travel sickness. A study involving a group of pregnant women suffering nausea revealed some affirmative results for ginger. A measly 1 gram of ginger per day for less than a week provided these women with relief from morning sickness and associated symptoms. What's even better is that ginger is a food, which when consumed as often as desired in meals, is a safe and effective remedy for nausea, vomiting and morning sickness in pregnant women. The authors published this study in the journal Obstetrics and Gynecology, confirming that ginger is considered a safe option with no detectable adverse effects on women or their pregnancy.
A similar finding was published in another article involving 576 cancer patients. This 2012 study assessed the acute administration of ginger in chemotherapy-induced nausea. Here, between half a gram and 1 gram of ginger helped reduce acute nausea symptom severity in all cases. To get a similar antiemetic effect in ginger tea, 2 or 3 cups using fresh ginger should provide relief from nausea and digestive discomfort.
Improves Immune Function
Ginger has long been used to support the respiratory system and aid in fighting colds and flu symptoms. Ginger also has compounds that relieve allergy and asthma symptoms of bronchoconstriction. The gingerol polyphenol found in ginger is actively responsible for alleviating allergy symptoms in the lungs. A study published in the Journal of Nutritional Biochemistry demonstrated that gingerol blocks immune cell (T-cells)
overactivity and calms down the response to environmental allergens. This could be welcomed news to allergy sufferers, if you're looking for a natural remedy to address sinusitis, sneezing and watery eyes.
Reduces Pain & Inflammation
Ginger tea can help relieve sore and tense muscles and pain related to joint stiffness. Knee osteoarthritis has been specifically identified as a treatment target for ginger. Nearly 250 patients were involved in a study using ginger extract compared to a control to treat knee pain. Those patients who consumed ginger extract had a consistently greater response to a reduction in pain on standing and walking compared to the control. The results overall deemed ginger as having a significant pain lowering effect on osteoarthritis knee pain.
Regulates Blood Glucose
Emerging research indicates that ginger tea is a promising therapeutic agent in the treatment of diabetic symptoms, such as high blood sugar. An Iranian study from 2014 evaluated 88 people with diagnosed type 3 diabetes. The participants were randomised to receive a 1 gram ginger powder capsule or control to assess the blood glucose lowering effects. Each group took their respective capsules 3 times per day. The test group experienced a significant decrease in blood glucose after an 8 week study period.
The authors posited a possible explanation for the anti-diabetic effects of ginger. They believe that ginger inhibits the enzyme that breaks down glycogen, which is a stored form of glucose in the liver. Over the course of the day, the effects of ginger would be measurable as the body derives energy from stored glucose as needed. It's important to remember that ginger extract is more potent than ginger tea, and these studies were conducted under a controlled environment. Drinking ginger tea could have a similar blood sugar balancing effect for people with or without diabetes.
Supports Cardiovascular Health
A meta-analysis on the effects of ginger and cardiovascular health was published in 2021. The results of this review showed that ginger has active compounds that are cardioprotective in various ways. Ginger is a powerful anti-hypertensive and anti-platelet remedy. Ginger acts as a vasodilator, which opens blood vessels allowing more efficient blood flow and circulation through the body. Ginger is also a strong antioxidant and anti-inflammatory food, due to the high content of gingerol and zingerone polyphenols.
Supports Brain Health
The neuroprotective effects of ginger can best be seen in the treatment of Alzheimer's disease. A study from 2011 involving 60 middle aged women was published in the journal Evidence-based Complementary and Alternative Medicine. A 400-800 mg dose of ginger was administered for two months a day and their brain function was monitored throughout the study. At the end of the study, the women who received ginger extract showed enhanced working and visual memory and faster cognition. Homemade ginger tea can support your brain health, enhance memory and improve cognition.
Side Effects of Ginger Tea
Ginger is considered generally safe, however there are some considerations to consuming ginger at moderate or high doses. Some experts indicate that an excess of 4g of fresh ginger per day could have interactions with anti-coagulant and heart medications. Other than this, some people report experiencing stomach irritation, dizziness and heartburn upon consuming ginger. Luckily, a cup of ginger tea has much less of the active compounds that affect these medications, compared to a fresh piece of ginger. So overall you should be able to safely consume 3 or 4 cups a day without issue. Always wind it back if you find you're having any of the above symptoms, and consult a health professional for further advice.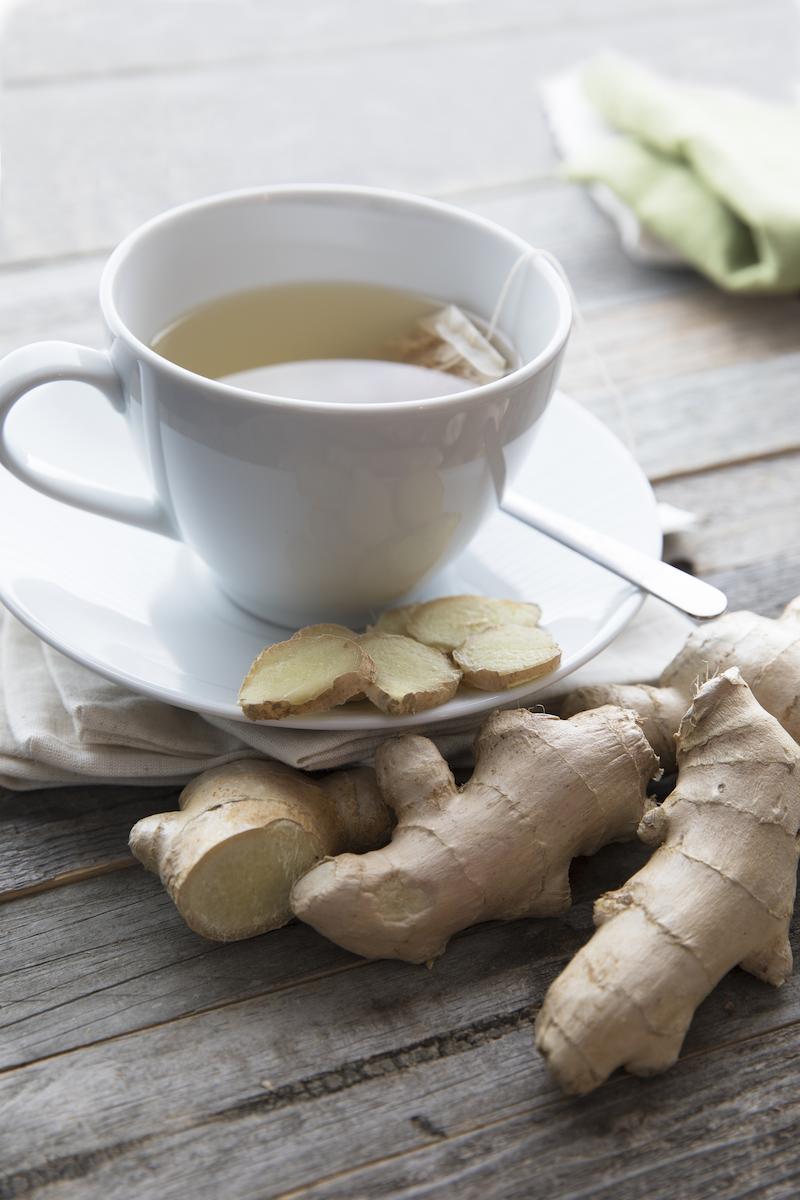 How To Brew Ginger Tea
Ginger tea can be made using fresh ginger, ginger tea bags or ginger powder as a 'loose leaf' style tisane. Fresh ginger will provide the most health benefits as it has a concentration of plant compounds. Using fresh ginger will also have a stronger flavour and intensity. For a milder taste, ready-made ginger tea in teabags is ideal.
Here's the steps to make your very own warming and fortifying ginger tea.
Ingredients
1 inch piece of ginger (about thumb-size)
200-400 ml of spring or filtered water
Honey or lemon as desired
Method
Grate the ginger using a fine box grater or mincer. Alternatively, finely slice your ginger into slivers and add to a mug
Boil the water on a stove or using a kettle. The beneficial compounds in ginger are released upon contact with freshly boiled water - don't be afraid to make it hot!
Pour the boiled water onto your fresh ginger and allow to infuse for 5-10 minutes. The longer the tea steeps for, the stronger and more potent your tea will become
Next, check the strength, remove your ginger from the tea if you want. Otherwise, leave the ginger in and the flavour and aroma will continue to develop as you sip
Add honey or lemon if desired, or enjoy simply as is.
References
Altman, R. D., & Marcussen, K. C. (2001). Effects of a ginger extract on knee pain in patients with osteoarthritis. Arthritis and rheumatism, 44(11), 2531–2538. https://doi.org/10.1002/1529-0131(200111)44:11<2531::aid-art433>3.0.co;2-j
Fakhri, S., Patra, J. K., Das, S. K., Das, G., Majnooni, M. B., & Farzaei, M. H. (2021). Ginger and Heart Health: From Mechanisms to Therapeutics. Current molecular pharmacology, 14(6), 943–959. https://doi.org/10.2174/1874467213666201209105005
Haniadka, R., Saldanha, E., Sunita, V., Palatty, P. L., Fayad, R., & Baliga, M. S. (2013). A review of the gastroprotective effects of ginger (Zingiber officinale Roscoe). Food & function, 4(6), 845–855. https://doi.org/10.1039/c3fo30337c
Kawamoto, Y., Ueno, Y., Nakahashi, E., Obayashi, M., Sugihara, K., Qiao, S., Iida, M., Kumasaka, M. Y., Yajima, I., Goto, Y., Ohgami, N., Kato, M., & Takeda, K. (2016). Prevention of allergic rhinitis by ginger and the molecular basis of immunosuppression by 6-gingerol through T cell inactivation. The Journal of nutritional biochemistry, 27, 112–122. https://doi.org/10.1016/j.jnutbio.2015.08.025
Ryan, J. L., Heckler, C. E., Roscoe, J. A., Dakhil, S. R., Kirshner, J., Flynn, P. J., Hickok, J. T., & Morrow, G. R. (2012). Ginger (Zingiber officinale) reduces acute chemotherapy-induced nausea: a URCC CCOP study of 576 patients. Supportive care in cancer : official journal of the Multinational Association of Supportive Care in Cancer, 20(7), 1479–1489. https://doi.org/10.1007/s00520-011-1236-3
Saenghong, N., Wattanathorn, J., Muchimapura, S., Tongun, T., Piyavhatkul, N., Banchonglikitkul, C., & Kajsongkram, T. (2012). Zingiber officinale Improves Cognitive Function of the Middle-Aged Healthy Women. Evidence-based complementary and alternative medicine : eCAM, 2012, 383062. https://doi.org/10.1155/2012/383062
Vutyavanich, T., Kraisarin, T., & Ruangsri, R. (2001). Ginger for nausea and vomiting in pregnancy: randomized, double-masked, placebo-controlled trial. Obstetrics and gynecology, 97(4), 577–582. https://doi.org/10.1016/s0029-7844(00)01228-x
Wikipedia Contributors. (2022, May 19). Ginger. Retrieved from Wikipedia website: https://en.wikipedia.org/wiki/Ginger, viewed May 19, 2022